We are coming up on Memorial Day weekend and the start of summer celebrations!
Here are a sampling of celebrations in Oregon small towns: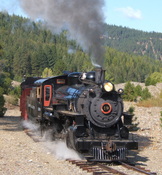 SUMPTER, OR
(Sumpter is in located in Eastern Oregon's old gold mining country near the fictional town of Halo, where my LEGACY series takes place.) Here's what's happening in Sumpter this weekend:
--Sumpter Flea Market, 5/25/2012 from 8:00 AM to dusk.
A little bit of eveything at this Flea Market, Antique Glassware, Collectors Items, Arts & Crafts, Food, Coins, Funiture & Books. Free admission to the public.

--Sumpter Valley Railroad Opening Day, 5/25/2012, 10:00 AM TO 3:15 PM [Photo from <http://www.sumptervalleyrailroad.org/>]
Opening Weekend for the Sumpter Valley Railroad and the kick off to Memorial Day Weekend events in Sumpter. Two round trips on Friday, three round trips on Saturday and Sunday, and two round trips on Monday.
You can find more info on these two events at <http://www.visitbaker.com/>.
--And don't forget you can also visit the Sumpter Valley Dredge, similar to the dredge Marly jumped through in PICTURE PERFECT LEGACY. <http://www.oregonstateparks.org/park_239.php>
ALBANY NOSH TOUR 2012
Via Albany's Historic Trolley, departing from the Albany Visitors Association (AVA), the Nosh Tour takes participants back stage in many of Albany's home-grown restaurants; tasting food and drink samples of what makes each establishment stand out, getting to see behind the scenes
, and speaking with the people who make it all happen. The tour is so popular, AVA is scheduling tours the last weekend of most months. AVAILABLE BY RESERVATION ONLY.
See <
http://albanyvisitors.com/
> for more information.
BOATNIK
Since 1959, The Grants Pass Active Club has held Boatnik every Memorial Day weekend along the Rogue River in Grants Pass, Oregon. For more than 50 years families have enjoyed this five-day event that supports the children and youth programs of the communities of Southern Oregon.
The activities start Thursday evening in Riverside Park with a carnival featuring food, rides, games and family fun. Friday includes a spectacular fire works display on the river. Saturday morning features the well-known Boatnik parade that travels through downtown and ends at Riverside Park. Throughout the weekend the festivities continue in the park that include: Sprint and Drag boat racing, carnival rides, arts and crafts, Papa John's pizza eating contest, children's activities, Bingo, food vendors, Monday Sundaes, the Chevy Drive It Home Golf Shoot Out and a second night of patriotic fireworks. Monday is the highlight of Boatnik featuring the World Famous Tom Rice Memorial White Water Hydroplane Race.
All funds raised by the Grants Pass Active Club from Boatnik are returned to the community by supporting local children and youth programs.
For more information, visit <http://www.boatnik.com/>.
PORTLAND ROSE FESTIVAL
And though definitely NOT a small town celebration, Oregon's largest city, Portland, is offering nearly a month of events during the 2012 Rose Festival, named the Best Festival in the World by the International Festivals and Events Association. For more information, visit <http://www.rosefestival.org/>
YOU CAN FIND MORE OREGON SMALL TOWN CELEBRATIONS AT

<http://www.oregonfestivals.org/>